This website titled www.law.gen.in is the official website of the Nationals Law Institute of India established in the year 1988 and inaugurated by the then Union Law Minister Shri Bindeshwari Dubey on the auspicious occasion of the United Nations International Day Against Drug Abuse and Illicit Trafficking on 26 June 1988.
Click here to print Admission Form
<![if !vml]>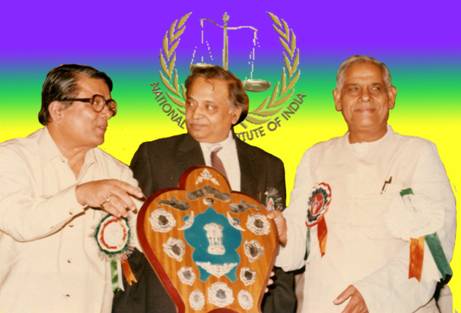 <![endif]>
Union Law Minister Shri Bindeshwari Dubey (extreme right)
inaugurating the National Law Institute of India (NLII)
on 26 June 1988 in the presence of Dr. Dharni P. Sinha
and Dr. Purnendu Narayan Sinha.
After researching for more than 30 years, the National Law Institute of India (NLII) has designed and launched the following Certificate level courses for the benefit of all those interested in acquiring expert knowledge of juridical science :

CERTIFICATE LEVEL COURSES

1. Certificate in Alternative Dispute Resolution
2. Certificate in Medication
3. Certificate in Negotiation
4. Certificate in Conflict Resolution
5. Certificate in International Law
6. Certificate in Criminology
7. Certificate in Forensic Science
8. Certificate in Intellectual Property Rights
9. Certificate in Anti-Terror Laws
10. Certificate in Trafficking Abatement
Click here to print Admission Form
Duration : Three Months
Eligibility : No Minimum Educational Qualification has been led down. All those interested in acquiring expert knowledge for promoting legal awareness are eligible to apply.

Fee : Rs. 3500 or US$ 85 only to be paid on account of admission, registration and evaluation fee.

This amount is to be transferred to our Bank Account having the following details :

Name of the Account : National Law Institute of India
Bank Name : Indian Bank, Saket Branch, New Delhi, India
Account Number : 6007492752
IFS Code : IDIB000S097

Step by step method of learning at the National Law Institute of India:

1. Get the Admission Form downloaded and complete the same

2. Email the filled-up Admission Form

3. Pay the Admission Fee by Cheque / Draft / Electronic Transfer

4. Receive the Roll Number and Study Materials

5. Go through the e-book carefully

6. Complete the assignments and send the same to the Institute by Email / Post

7. Submit the Project Report based on your experience and knowledge acquired regarding any topic relevant to the admitted student.

8. Wait for the announcement of results.

9. Receive the Certificate (Online)

In case of any clarification, contact the Facilitation Officer, National Law Institute of India, A 14-15-16, Paryavaran Complex, New Delhi – 110030, India by post or by
Email : [email protected]

For any clarification, contact may be made through telephone by calling on 011-29533801, 011-29533830, 011-29535053.

24-Hours Helpline : 9999833886

All those interested in getting admitted to one of the Certificate level courses are here by advised to fill-up the Admission Form given below and send the same on the above mentioned address by email or by post along with payment of Rs. 3500 by cheque / draft / RTGS etc.
Click here to print Admission Form
---
The National Law Institute of India observed its Silver Jubilee during the year 2013 and declared that the following publications have been brought out during the last 25 years since its inception with a view to strengthening the cause of juridical education :
1. Jurisprudence
2. Indian Legal and Constitutional History
3. PIL Legal Aid and Paralegal Services
4. Right to Information
5. Constitutional Law
6. Administrative Law
7. Law of Torts
8. Labour Laws
9. Banking Laws
10. IPR Laws
11. Environmental Laws
12. Hindu Laws
13. Muslim Laws
14. Company Laws
15. Women and Child Laws
16. Human Rights Laws
17. Arbitration and Conciliation
18. Criminology and Penology
19. International Commercial Arbitration
20. Alternative Dispute Resolution
21. Case Studies in Arbitration and Mediation
22. Source of International Law
23. Public International Law
24. Supranational Law
25. International Humanitarian Law
26. Introduction to Arbitration
27. Types of Arbitration
28. Mediation and Conciliation
29. Ethics in Arbitration and Mediation
30. Arbitration Awards
31. Case Studies in Dispute Resolutions
32. Theories of Conflict Resolution
33. Models of Conflict Management
34. Organisational and Interpersonnel Conflicts
35. Counselling and Dispute Resolution
36. Principles and Practices of Mediation
37. Ethics and Conflict Resolution
38. Case Studies in Conflict Resolution
39. Theories and Approaches to Negotiations
40. Styles of Negotiations
41. Positive and Negative Aspects of Negotiations
42. Barriers to Negotiations
43. Emotion and Negotiation
44. Principles and Practices of Bargaining
45. Negotiations in Business and Government
46. Case Studies in Negotiations
47. Forensic Science Disciplines
48. Forensic Psychology
49. Forensic Services
50. Forensic Technologies
51. Forensic Science Education and Research
52. Forensic Toxicology, Pharmacist and Nursing
53. Computer Forensics Information
54. Crime and Criminology
55. Criminal Intelligence and Combat Mechanism
56. Crime in India
57. Crime Against Women
58. Crime and Corruption
59. Criminal Law and Justice
60. Crime Prevention
61. Global Terrorism
62. IPR and its General Regime
63. Patent System, Law and Policy
64. Copyright and Neighbouring Rights Law
65. Trademark System, Law and Policy
66. Industrial Designs and Geo-indications
67. IPR Protection : Global and Local Scenario
68. WIPO, WTO, GATT, TRIPS and IPR
69. IPR, Innovations, Science and Technology
70. IPR and other related Issues
71. UN Guidelines on Terrorism
72. UN Conventions on Terrorism
73. Regional Conventions on Terrorism
74. Anti-Terror Laws in Asian Countries
75. Anti-Terror Laws in USA and Canada
76. Anti-Terror Laws in European Countries
77. Anti-Terror Laws in Pacific Countries
78. Anti-Terror Laws in African Countries
79. Laws relating to Hospitality Industry
80. Legal Ethics
81. Legal Aspects of Fire Accidents
82. Legislation on Industrial Safety and Health
83. Introduction to Trafficking
84. Trafficking in Human Beings
85. Drug Addiction and Drug Abuse
86. Illegal Drug Trade
87. Drug Trafficking and Human Rights
88. Global Impacts of Trafficking
89. Global Terrorism
90. Funding of Terrorists Activities
91. Political Ethics and Trafficking Abatement
92. Violent and Serial Crimes
93. Psychology and Policing
94. Rehabilitation of Offenders
95. Pharmacovigilance and Drug Safety
96. Drug Regulations and Schedule
97. Ethics in Clinical Research
98. Social Security for the Aged
99. Introduction to Valuation Science
100. Quantitative and Economic Principles of Valuation
101. Approaches and Models to Valuation
102. Appraisal Methodologies
103. Business Valuation
104. Real Estate Management and Valuation
105. Plant and Missionary Valuation
106. Town and Country Planning Legislation
107. Safety and Security in Urban Areas
108. Police Reforms
109. Police Research
110. Effective Policing
All those interested in acquiring these publications may contact :
The Chairman
National Law Institute of India
A 15, Paryavaran Complex
New Delhi – 110030
Tel. : +91-11-29533801, +91-11-29533830
Email : [email protected]
Website : www.law.gen.in
Those interested in starting a University or a College or an Institution related to Laws and related Juridical Sciences may also contact us for establishing these organisations in India or in any country of the world.
Click here to print Admission Form